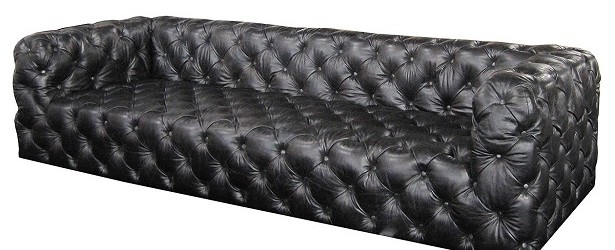 Being as i just moved, I've been spending a lot of time looking for suitable furniture. My favorites overall have been the tufted leather club chairs I have seen from Four Hands furniture. In a dark, weathered leather, these handcrafted with seven stages of staining, sealing and buffing giving it that authentic aged and weathered distressed look.
Upholstered seating you would find in an upscale smoking club in Tribeca, or an ultra chic Southbeach Miami nightclub, these individually tacked nail heads create the tufts in the leather which have been antiqued with linseed oil and talc require 8-14 hours to create the finish.
The three pictured are the Conrad Club Chair in Espresso leather from the Carnegie Vintage Leather collection, the Tribeca Tufted 4 Seater Sofa in old saddle black top grain, and the matching Tribeca Tufted Club Chair also in old saddle black top grain.
[ad name="go-STIL-smbanner"]
Available from Gilt Home, or directly from Four Hands for designers and retailers starting at $2,600.