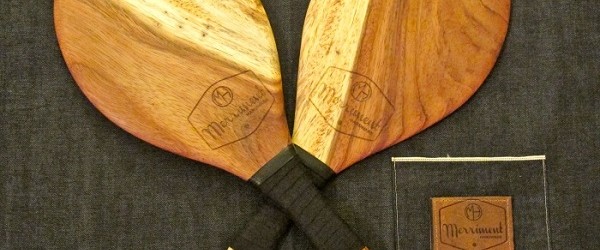 A leisure sport long enjoyed by Brazilians and starting to make a comeback on California beaches, parks and backyards, Frescobol is the original paddle-ball. Since just about everything 80's is making a big comeback, why not smashball? At least these beautifully crafted paddles will bring some class and style to a game commonly associated with plastic and out-of-control kids.
Merriment Hardware is a San Francisco company that handcrafts each reclaimed hardwood fresco paddle to order in their small workshop. To show their support for play, they donate 10% of their profits to the California State Parks Foundation to make sure you will always have a place for Frescobol.
Each set includes two paddles, a rubber racquetball and a sweet cotton carrying bag. They also make some pretty unique park towels made with selvedge denim for your fresco filled outing.
$115 per frescobol set from Merriment Hardware


[ad name="go-STIL-smbanner"]