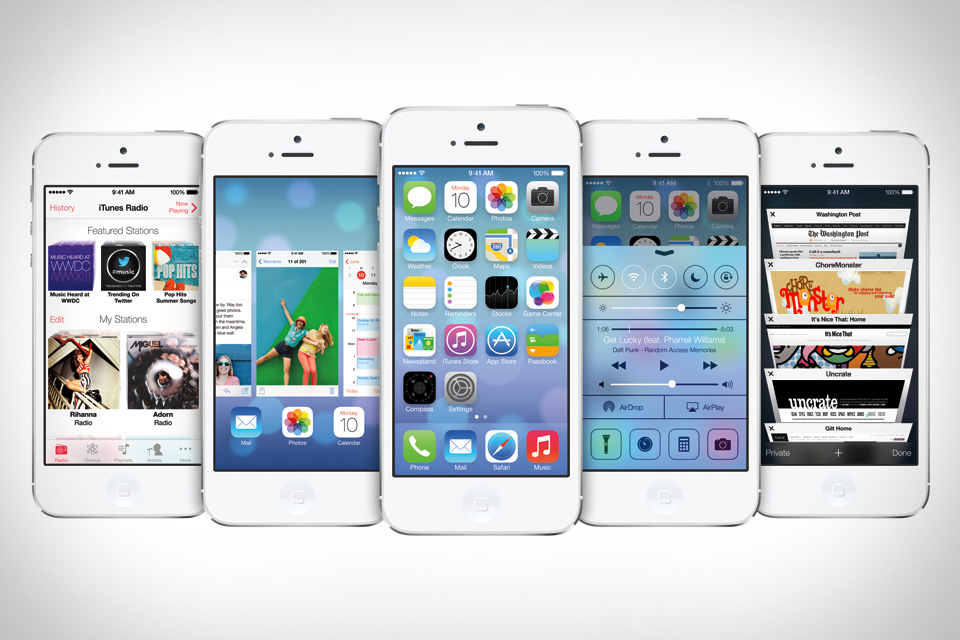 After being pretty happy with iOS6 on my iPhone5, I decided to update to iOS7 after watching their teaser release video. A sucker for clean, intelligent design, it looked like a wonderful upgrade although I wasn't totally sold on the new color palate.
Settings > Software Update > iOS7 is all it took, and 45 minutes later, I had the shiny new iOS7. The whole process was totally painless, easy and intuitive. The new operating system gives you a few quick tool tips when you first start it up, and the teaser video lets you in on how things are structured a bit differently than iOS6. I am totally in love with the fonts, small (and large) design changes, but the colors, icons and overall display feels a bit washed out or like that feeling after you look at the sun too long.
The new platform does feel familiar, and I am able to navigate it almost as if nothing has changed, but it has. Here were a few helpful tips that I found useful to know.
How's that battery life?
I haven't seen any change with my battery life, but that is only because I know how to turn off all of those apps running in the background. Here is how you do that:
Double-click your home button and you can flip through all of your running applications. Flick the previews up to quit them. Easy.
Another tip is to turn off Background App Refresh, or select and turn off apps you don't really care about.
Find it in Settings > General > Background App Refresh
Finally, turn off AirDrop since your phone will constantly be searching for other phones to connect to. Swipe from the bottom up to open the Control Center and double tap on the AirDrop logo, select off to turn it off.
Lock Screen Info
So much is available in the lock screen, you can cut down your code-entering to a minimum from here on out.
Swipe down- You get today's calendar along with recent events under 'all' (updates, messages, texts, etc), along with missed calls.
Swipe up- Access to so many settings! Including airplane mode, wifi, and bluetooth toggles; brightness; media controls along with handy apps like a stopwatch, calculator, flashlight and camera.
John who? Restore full names to alerts
Not all is honky-dory in iO7 land. You may notice your alerts come in with only first names, not good if you know lots of Sarah's, Dave's or Stacey's.
To restore recognition back to your contacts, do this: Settings > Mail, Contacts, Calendars
Under the Contacts section, select Short Name and then select the alert option you prefer. Done!
Cool New Mail Features
You have much more control over filtering email now, which is fantastic!
Hit the 'edit' link in your mail app and you will find all kinds of filter shortcuts like unread, flagged and drafts. Now you can see at a glance your new emails out of the thousands in your inbox.
What's up with the Calendar?
A bit confusing at first, the new calendar views are incredible. Before, you had 3 types of views: day, month or list. These still exist, but you can zip around to use it more as a planning calendar too.
View today? Click 'Today' in the bottom left corner.
To see your day view, click on the date, and you are there.
Month view? Click the name of the month (either in the top left corner, or on the calendar itself).
List view? See that magnifying glass in the top right corner, it is your list.
Year view? Click on the month, then year, and bam, you have a yearly view.
Overall, a great update, just click where you want to go!
[ad name="go-STIL-smbanner"]
iOS7 is FREE! Apple