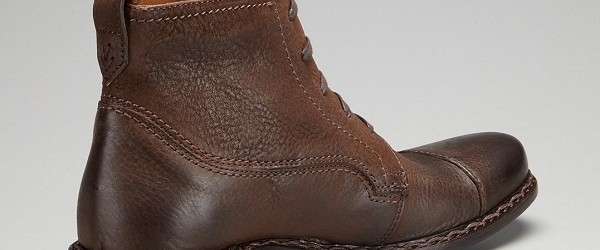 Who doesn't love a nice pair of leather boots? The John Varvatos lace up ankle boot has all the trimmings of a great casual boot to last a long time while aging gracefully. Shall I list them off?
Designer Italian leather tops (very important to have a quality leather top)
Leather soles (means the sole will literally mold to your foot over time)
Rounded cap toe (a classic style which will out live the 'square toe box' fad)
Having owned many pairs of shoes, I have come to notice that my more expensive ($250+) shoes not only break in and become more comfortable, but they also last forever. I may be a bit hard on my shoes, but it seems that my less expensive shoes use cheaper materials (cheaper leather) that break down and wear out quicker. By the time the soles are in need of replacement, the tops are shot. Not so with a great pair of shoes or boots, on the contrary, that is when they are just getting broken in!
What can I say, a classic style, great looks and versatility, everyone should have a pair such as this in their closet. Enough said.
John Varvatos Footwear Leather Ankle Boot – Retail $498
[ad name="go-STIL-smbanner"]